To boldly mo...
---
Tuesday 2 December 2014 by Travis Smith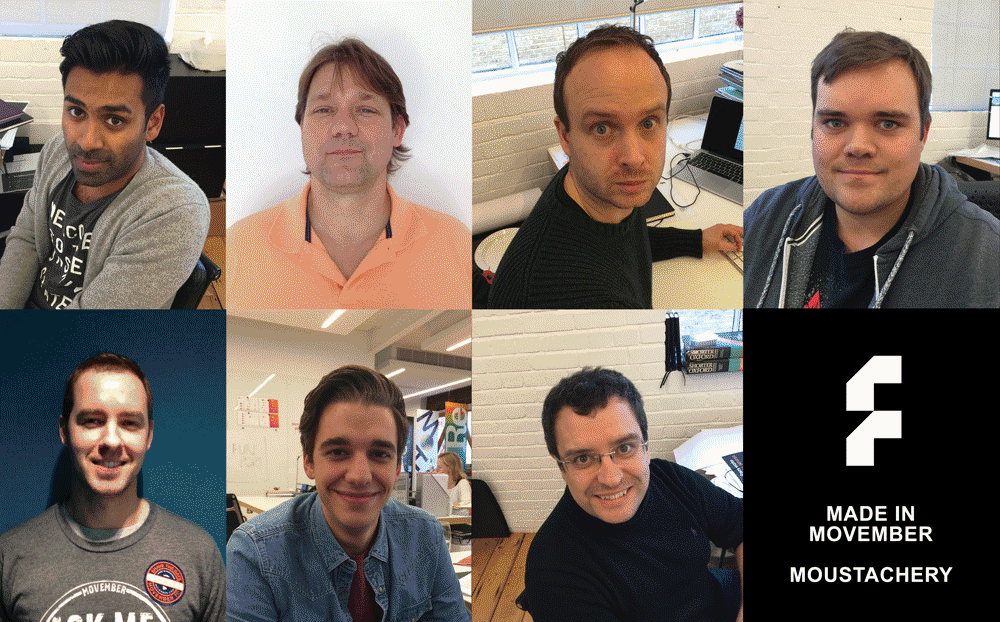 "Face furniture", "cookie duster", "soup strainer", "grass grin" and the tried and trusted "mo". By and large, the mustache has been consigned to history as a relic of male grooming – and there are many ways to describe a man who sports one in public in the 21st century. But this antiquated facial hairstyle hasn't completely died out. In fact, it's firmly back in fashion for one month of the year: "Movember".
The idea behind Movember is simple. You start clean-shaven on November 1 and grow a mustache over the next 30 days. You ask friends and family to donate to your cause. The money goes toward fighting diseases like prostate and testicular cancer and mental health problems affecting the male population. During this time, your mustache becomes a walking billboard for men's health, raising money and sparking vital conversations.
Led by the Movember Foundation, the global initiative has spurred tens of thousands of people to raise $559 million over the last decade.
This was my sixth year taking part in Movember and I had the privilege of captaining Team Mustachers. I cajoled six fellow Frameworkers across Detroit and London to cultivate their lip foliage in support of the cause – and our team swelled when some of the ladies also jumped on board to help spread the word.
Social responsibility
As well as the initiative's obvious benefits, the overt playfulness of Movember makes it pretty endearing – and it enables brands that support the campaign to flex their character while backing a good cause. The Movember Foundation has a number of brand partners including Barbasol shaving cream, razor firm Harry's and shoe manufacturer TOMS – and numerous other brands backed the month-long program as part of their corporate social responsibility (CSR) strategies.
CSR is nothing new. In fact, the total spend from businesses on their CSR activities continues to rise every year. When it works, brands are truly aligned with the charity they're supporting and both parties benefit.
While we would all like to think that brands are only doing this for the greater good, there are of course a few business reasons too. Let's consider the facts:
A successful CSR initiative is about more than slapping a brand's logo next to the name of a popular charity. Brands must ensure that the charity they choose to support aligns with their own core values – they must "walk the walk", actively backing relevant campaigns and leveraging their reputation and existing audience to drive fundraising efforts. When brands jump on the bandwagon of a trending topic or charity purely for association, and the move doesn't make a difference to the cause, consumers quickly see through it. This type of behaviour can really damage a brand's reputation.
A helping brand
A number of brands have backed Movember in recent years with social media campaigns. One of the most memorable brand figures sporting some upper lip action was the one and only Mr Clean. In 2012, P&G's iconic clean-shaven Mr Clean (figurehead for a suite of the brand's cleaning products) grew a mustache for the first time in more than 50 years. Mr Clean's facial hair growth was determined by a "Stache-O-Meter", powered by Facebook likes: the more consumers interacted with the brand's Facebook page, the more adventurous Mr Clean's 'stache became.
Headline partner TOMS is enjoying a five-year partnership with Movember. The brand is a perfect fit given its philanthropic background, driven by its "one for one" campaign. TOMS even launched a limited edition shoe line for Movember – and its Movember network has raised more than $16,000 this year. The partnership is illustrative of a successful, long-running CSR initiative.
Shaving giant Gillette is another long-standing Movember partner, backing the campaign since 2012. The firm's association with the initiative is an example of how it can further its own core business. Gillette first linked up with the Movember Foundation following the launch of its new facial hair trimmer, Fusion ProGlide Styler. With razor sales down in mature markets, thanks in part to designer stubble becoming the height of fashion, the move was a necessary one for Gillette as it looked to safeguard sales.
Success
Brands aside, it's the thousands of mo bros and mo sistas who are really making a difference by taking part in Movember every year.
Growing my mo means taking part in something I believe in and feel good about. Establishing an unspoken bond with those taking part and helping spread the word about men's health is also important. Team Mustachers has helped me achieve all that – and we've managed to raise more than $800 for Movember.
For me, there's also a lesson in confidence to be learned. If you don't normally sport a mustache, you can be really self-conscious when interacting with others during your 30-day journey. Being able to put those feelings aside, because you know you're helping to change the face of men's health, says a lot about your own character.
Team Mustachers may have said farewell to their bristle batons for another year, but the impact of the team's efforts – and Movember participants across the world – will be felt for some time to come.
Share this article